For information regarding the Coronavirus Disease 2019 (COVID-19), please visit "COVID19 Update" under News & Events.
Announcements
LSF SoCal Adult Services is participating in the Long Beach Gives giving campaign this year! Their goal is to raise $5,000 for the Christmas Giving Program that distributes presents during the holidays to participants who have no family. Support their cause by donating to their Long Beach Gives page. The donation link will open on Friday, September 17 for early giving. For more information, contact Robert Turner at 562-477-1726.
---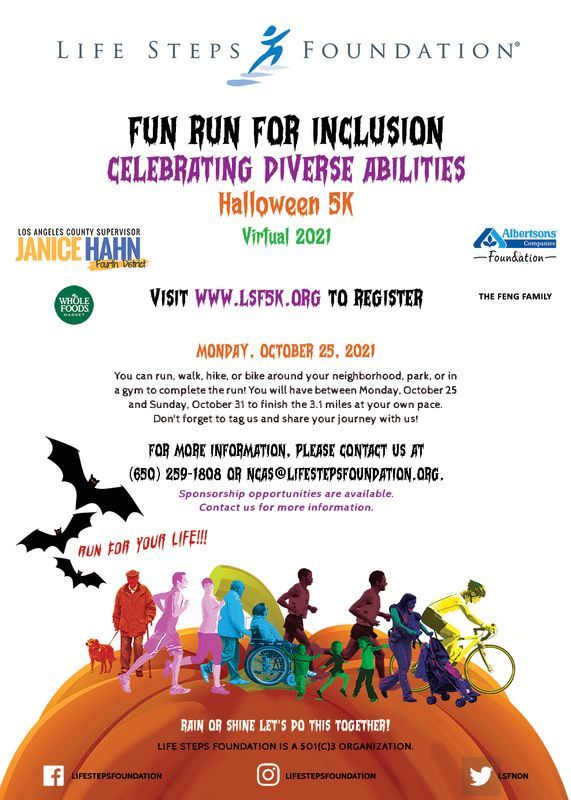 Life Steps invites you to our Fun Run for Inclusion 5K 2021 virtual benefit event. The event will start Monday, October 25 and end Sunday, October 31, 2021. For more information or to inquire about sponsorship, please contact us at (650) 259-1808 or ncas@lifestepsfoundation.org. To register for the event, please visit www.LSF5K.org or click on the flyer above.
---
Our Services
Life Steps Foundation, Inc. is a non-profit organization dedicated to meeting the health, psychological and socioeconomic challenges of people throughout their lifespan who are experiencing mental, developmental or physical disabilities
.
Join our mailing list to receive our quarterly newsletter and information of our annual events.
Sign Up Today!

Our programs are designed to further our mission and provide much needed services for our constituents.
Take a look.

Fundraisers and events help us raise awareness and generate crucial resources to serve our community. Join us at our next event and see how you can get involved.
Find out more.
Posted on 09/20/2021

International Day of Peace, recognized on September 21 every year, is the perfect opportunity to promote peace in the world around us.

Posted on 09/13/2021

Spending quality time with those you love is not only good for the soul, it's a great step toward living an altruistic life. But how do you put the quality in quality time? Check out these ways to make the most of quality time to help you on your journey toward an altruistic lifestyle. 

Posted on 09/07/2021

It's hard to believe that the end of the year is approaching so quickly. Wasn't it just 2020, after all? Time flies faster than you think, which is why it's important to think about your end-of-year giving plan now.