For information regarding the Coronavirus Disease 2019 (COVID-19), please visit "COVID19 Update" under News & Events.
Announcements
---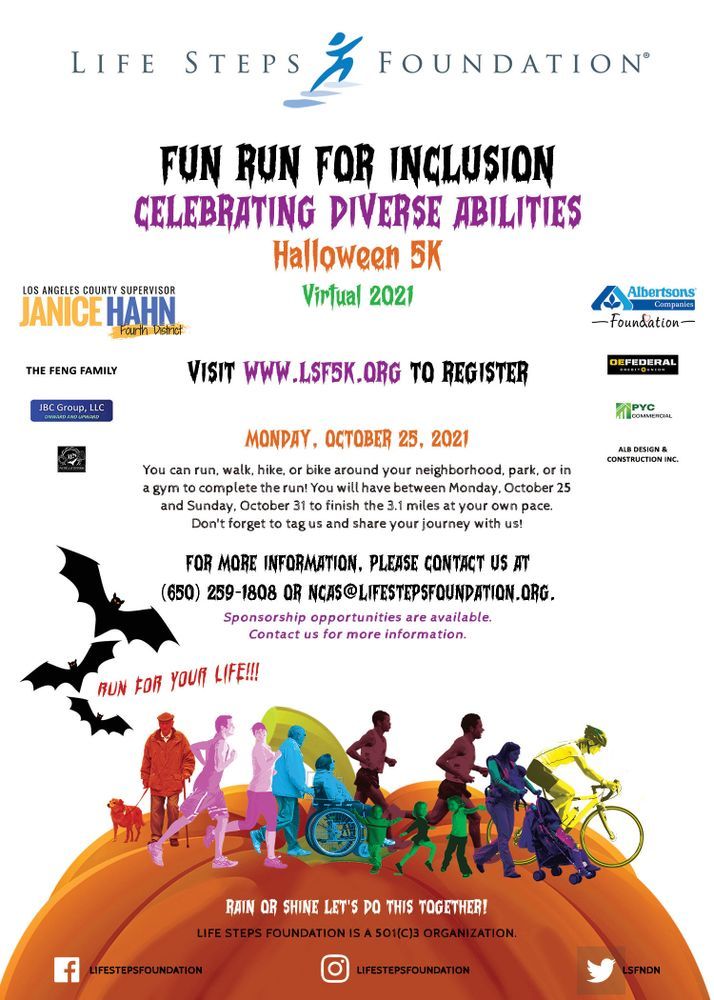 Life Steps invites you to our Fun Run for Inclusion 5K 2021 virtual benefit event. The event will start Monday, October 25 and end Sunday, October 31, 2021. For more information or to inquire about sponsorship, please contact us at (650) 259-1808 or ncas@lifestepsfoundation.org. To register for the event, please visit www.LSF5K.org or click on the flyer above.
---
Our Services
Life Steps Foundation, Inc. is a non-profit organization dedicated to meeting the health, psychological and socioeconomic challenges of people throughout their lifespan who are experiencing mental, developmental or physical disabilities
.
Join our mailing list to receive our quarterly newsletter and information of our annual events.
Sign Up Today!

Our programs are designed to further our mission and provide much needed services for our constituents.
Take a look.

Fundraisers and events help us raise awareness and generate crucial resources to serve our community. Join us at our next event and see how you can get involved.
Find out more.
Posted on 10/18/2021

The spooky season is coming to an end before we know it, but that doesn't mean we're over October. Scary doesn't always have to be bad. Instead, use these final weeks as a reminder to do some scary-good deeds and give back to your community.

Posted on 10/11/2021

In order to lead a truly altruistic life, it's important to take stock of your own mental health, as well as those around you. There are a ton of free resources and tactics you can use to check-in and improve your mental clarity.

Posted on 10/04/2021

It's hard to believe that another month has come and gone. As we enter October and inch closer to the holiday season, year-end giving and volunteering also ramps up.