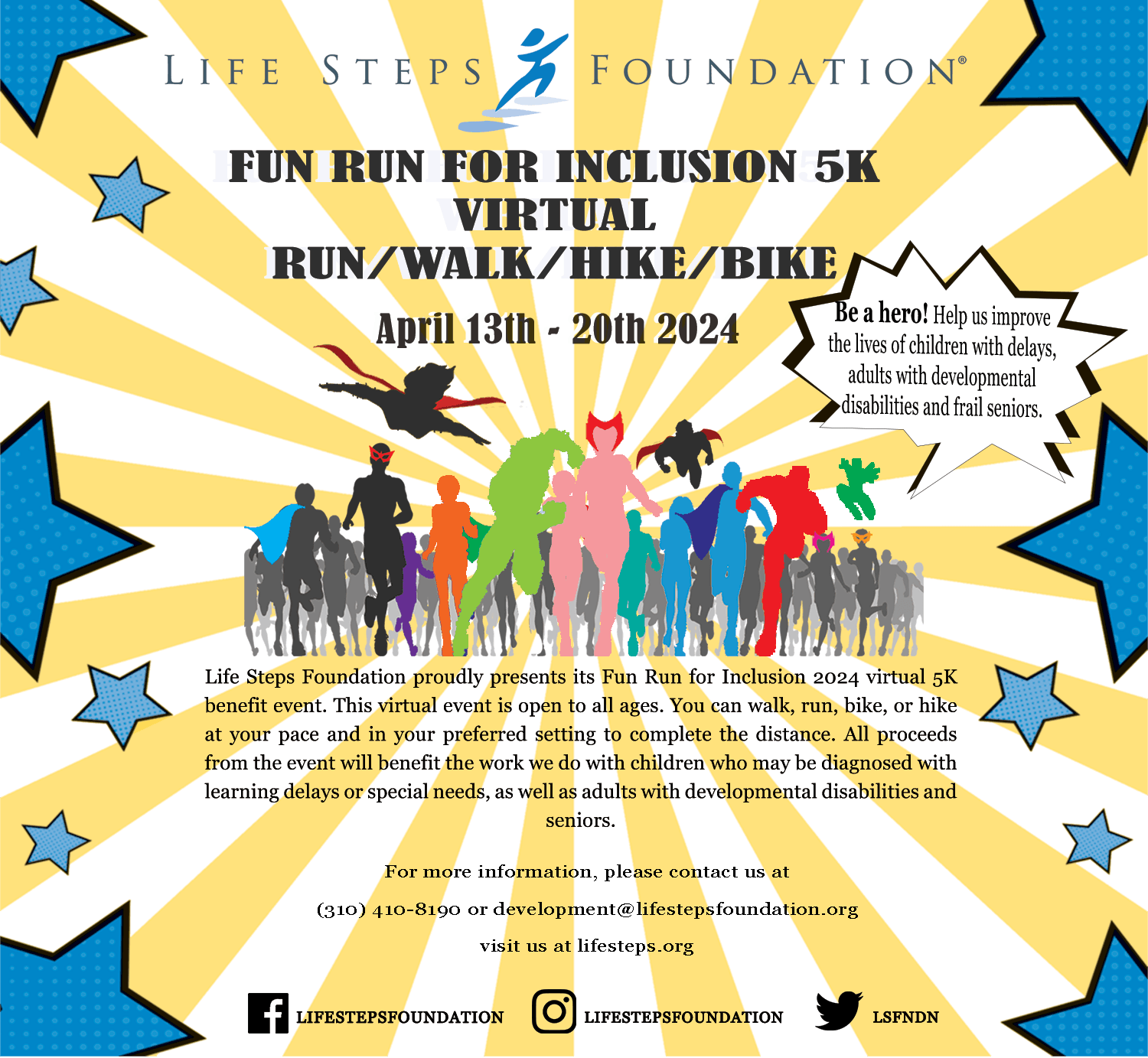 Fun Run for Inclusion 5K - 2023
Life Steps Foundation proudly presents its Fun Run for Inclusion 2024 virtual 5K benefit event. This virtual event is open to all ages. You can walk, run, bike, or hike at your pace and in your preferred setting to complete the distance. All proceeds from the event will benefit the work we do with children who may be diagnosed with learning delays or special needs, as well as adults with developmental disabilities and seniors.
We will not able to socialize and finish the race together again this year but in participating in the event you will be making a difference in the lives of the individuals we serve.
---
Virtual Event (Online)
The virtual event will be open for a week. You will be able to complete the race at your own pace starting Saturday, April 13, and ending Sunday, April 21. Run, walk, hike, or bike around your neighborhood, park, block, street, track or on a treadmill. Don't forget to tag us and share your journey with us!
HOW IT WORKS: (IN 7 STEPS)
Complete registration to event. (Please correctlywrite your address to receive your package and acknowledgement letter.)
Receive email confirmation.
Get your friends, family, classmates, co-workers, and community to sign up for the 5K race. It's always more fun together!
Receive email with estimated delivery date of items for run.
Wait for your Fun Run package to arrive.
You have from April 13 to April 21 to complete the virtual 5 kilometers or 3.1 miles around your neighborhood, park, block, street, track or on a treadmill.
Share your accomplishment! Take a picture showing that your completed your virtual run and/or post it on social media using the hashtag: #LSFRUN4INCLUSION
Contact:
For more information or questions, call us at (650) 259-1808 / Doug Rimerman at (310) 410-8190 ext.1010 or email at development@lifestepsfoundation.org.
**You can also directly sign-up with Life Steps if you feel more comfortable. Please make check payable to Life Steps Foundation and mail to our Headquarters office at:
5757 West Century Blvd., Suite 880, Los Angeles, CA 90045.
---
---